09/26/2018
Strong wave Riders-will in California Now it was time, from the 29.11.17 to the 03.12.2017, the competition ISA Adaptive Surfing Championship took place in the quiet village La Jolla/California. The World Cup is sponsored by Vissla, a well-known brand in the surfer scene, and the city of San Diego.
[…]
---
My purpose
I would like to improve the lives of people who have had a shot of fate and give them the opportunity to make a surfing trip to provide a new significant experience, that they could not otherwise do it.
- Amina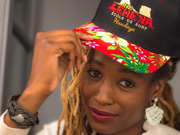 ---
Irie Ocean Author
The most important thing for me is the inner core of every being.
09/08/2018
How I got to This My first experience with adaptive surfing I was able to collect during my stay in California. In San Clemente, California, the atmosphere shook with sheer passion and ambition, the feeling that "we create this" filled the environment. To observe how people with different handicaps were
[…]
09/08/2018
I contacted the school; the reservation was simple and direct. A one-night stay is also quickly found. Since I don't have a driver license and a car, so the public transportation was an issue for me. I tried online to make my train trip to Germany and France and noticed
[…]
---